To add a player to the main body of your pages or posts, we use a "short code".
A short code is a small chunck of text, which you type into your post. When you preview the page (and when it's "live"), WordPress will replace the short code with an actual player.
The basic premise is that special characters (brackets) plus a unique identifying "signature" are used to flag WordPress. In our case, the word "rave" is the identifying signature.
Getting the Short Code
If you click the "Players" sub-menu item under "Rave Player" in the side menu, you'll see a box just under the preview player, which contains something similar to:
[rave]
or
[rave player=player42]
This is the actual stuff you'll use in your posts, or pages to cause a player to appear on your page.
The idea should be pretty straight forward, simply type (or copy and paste) the "short code" into your post or page.
Adding Short Code within the editor
In the image below, you'll see how we typed [rave] into the post editor.
How the page actualy renders
This second image is a screenshot of how the post gets rendered with the [rave] test being replaced with an actual player.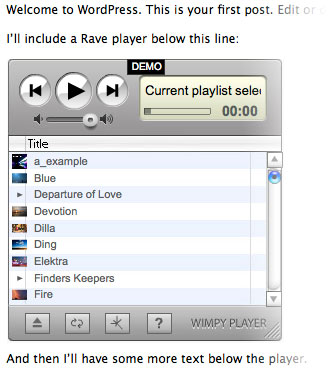 '